Posts by Mohamed Nuxurkey
Life in Capital Slowly Returning to Normal, Despite Lack of Security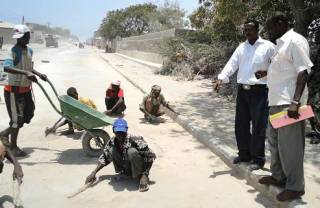 Since Islamist movements took power in Somalia in 2006, there have been increasing attempts in Mogadishu to impose the repressive interpretation of Shariah law which al-Shabaab had already imposed on the rural areas of southern Somalia. Nevertheless, there are indications that this period of cultural suppression is ending, along with the retreat of al-Shabaab from the capital city. Gradually, life is returning to the cultural patterns to which Somalis are more accustomed, and even the infrastructure is visibly under repair, with buildings rebuilt and roads repaired.
Despite the series of atrocities during the latest fighting in Mogadishu, and although there remain obstacles to development, there is a sense of setting out on a new road to a different Somalia, after decades of civil war and hunger, and even as the country struggles for security.
Al-Shabaab had imposed bans on music and dance, and artists had been compelled to find other jobs, but some have started to return to work in their chosen fields. One resident of Mogadishu, Abdi, told Somalia Report that he is happy to resume his creative works. "We have been unable to function for years, because al-Shabaab banned anything related to music. Yet music is so important to our culture, we can't abandon it for the sake of self-interest. I have been working music and film productions until I was young."
Some local radio stations were not able to broadcast music or songs in Mogadishu for several years, but the privately owned radio station Simba is now not only plays music, it also hosts radio programs discussing current politics without fear of censorship. When al-Shabaab held power in Mogadishu, social issues such as gender and politics were unable to be discussed.
Al-Shabaab has yet to respond to the resumption of music programming on both Simba and Banadir district radio stations. Abdullah Atosh, current director for Simba radio, says the audience is gradually returning. As signs of a cultural revival, music is now heard playing everywhere in the capital, women dress in comfortable clothing walk together in the streets of the capital, and are driving and working in offices of the city. Women and men are reunited on public buses, mixing and talking to one another, after years of suffering gender segregation.
"I'm very happy to see this shift, you can see what the people are doing, it is great opportunity to return home, rebuild their country, and the people are more democratic than in the past," said Ayaan Hussein Warsameh, in her business in Bakara Market. Despite positive signs in Mogadishu, security is still in jeopardy in the capital, which effectively proscribes the rise democratic developments. Series of bombings in recent weeks, including attacks by al-Shabaab on military bases and checkpoints established at intersections throughout the city.
Along with this, the Transitional Federal Government (TFG) seems reluctant to discipline frequent misbehavior by their soldiers or fellow militias, who walk the streets armed, in addition to looting aid deliveries in camps.
Somalia has suffered from many years of chaos, famine and civil war since declaring independence in 1960.