Posts by AAH
Breaking News
Conflict Over Mentor and Livestock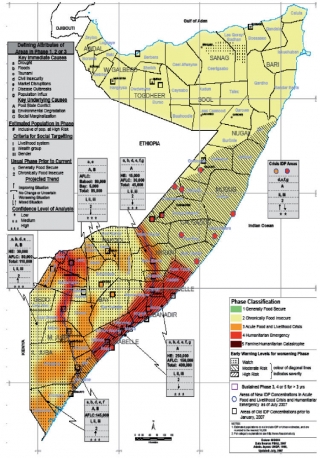 Five people died and four were seriously injured during heavy fighting on Saturday between al-Shabaab militants and locals in Geyfo village of Middle Shabelle region, according to residents who spoke to Somalia Report.
Ahmed Moalim Mohamud, a resident of Ragge Elle village near Geyfo who spoke to Somalia Report, confirmed that the locals who were killed were fighting to defend their farms and livestock. 'Three people who died were locals, while the other two were al-Shabaab," he said.
He added that the injured were taken to Jowhar, the provincial capital, to get medical assistance.
Muna Abulkarim Jima'ale, a resident of Geyfo village, told Somalia Report that the fighting between the locals and al-Shabaab fighters used artilleries and heavy guns, due to al-Shabaab's demands for locals' farms and livestock. She added that the conflict ended around 6PM local time (1600 GMT) when residents started to flee, noting that most of the people are pastoral herders and farmers who fear that the conflict will start up again and cause yet more damage.
The locals protested when al-Shabaab fighters attacked a religious woman who lives in Geyfo who has many supporters in the area. "More than 20 fighters from insurgents attacked the home of a well-supported and respected religious woman in Geyfo village, that is why the locals protested and started to fight with the militants," she said.
Local elders from Raage Elle arrived earlier in the day and opened negotiations between locals and al-Shabaab fighters, although the militants refused to bury the bodies of the locals who fought against them.
Acts of resistance from locals against al-Shabaab's presence in southern Somalia have been increasing during the recent months, although the militants still control large swathes of southern Somalia.
Mohamed Ahmed Afweyne, a political analyst based in Mogadishu, told Somalia Report that actions, such as the killing of civilians today, will bolster resistance by locals against al-Shabaab and this will lead to the militants losing large parts of southern and central Somalia.