Posts by MJD
Feature
Brainwashing, Bribes, Kidnapping Part of Shabaab's 'Recruitment' Process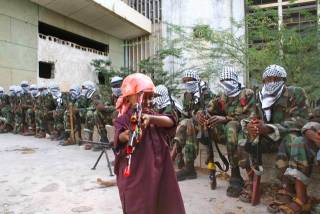 Since the incursion of the al-Shabaab insurgent group in southern and central Somalia in late 2007, many Somali children under the age of 18 - both boys and girls - have gone missing. Under the guise of 'recruiting', the group has kidnapped these children to serve as fighters (and for other purposes) against its many opponents, including Somalia's Transitional Federal Government (TFG) forces, African Union peacekeeping forces (AMISOM), Ethiopian troops and Kenyan Defense Forces. As a result of their forced participation in combat between al-Shabaab and their enemies, many children have been killed or severely injured, including some who are permanently maimed or disabled.
The insurgent militia of al-Shabaab has long found children an easy source of fighters to supplement its ranks, particularly in the face of its ongoing losses owing to its long history of combat in the region. In these cases, these children, who might otherwise be attending school or vocational training, are driven away from these institutions of learning into al-Shabaab bases where they are forced to stay until their paramilitary training courses are completed. In other cases, children are indoctrinated in al-Shabaab-taught dugsi (where the Quran is the primary teaching resource), schools, madrassas, and mosques.
Al-Shabaab also uses less forceful means to indoctrinate children, usually through a system of rewards (rather than by kidnapping or the ever present threats of violence for non-compliance) into joining its ranks. For example, they may offer candy to those children who complete the study of a chapter of the Quran. They also use an equally less threatening method in which they play audio and video tapes that show the rewards of paradise promised to individuals who act as suicide bombers and for those jihadists who die in combat.
When al-Shabaab captures a town, their first action is typically to "remake" the town into what it claims to be a better place to live, through offering better social services, improved schooling, and other "benefits." What the community often does not realize is that, at the same time, the insurgents have turned the town into a training camp. They accomplish this, in part, by removing all the current teachers from the schools and madrassas and replacing them with al-Shabaab's own instructors. These instructors, then, indoctrinate the children in the al-Shabaab ideology, which focuses on jihad and fighting against what the insurgents call infidels; those enemy forces who operate on Somali soil.
The al-Shabaab instructors are able to attract and brainwash the youths by presenting a caring demeanor and by (falsely) instilling in their students a sense or purpose and self-worth. In serving with the militia, the children are led to believe that they will be an important part of society and that their country will love them and God will bless them. The children are also made listen to lectures by al-Shabaab senior officials, in addition to the aforementioned audio and videotapes.
Some of these lectures and tapes are centered on stories of how many young boys and girls sacrifice themselves and committed suicide attacks against the TFG and the foreign fighters who were attacked the country from neighboring nations.
The children are also provided books authored by al-Shabaab that explain the philosophy of al-Shabaab and how al-Shabaab has led the youth to create a better future for themselves and for the country. Disturbingly, some teachers also offer lessons and stories as to how al-Shabaab warriors have used a gun in combat, specifically in order to try and increase a child's desire to one day be able to emulate these warriors and, one day, wield a gun in combat, just like their al-Shabaab jihadist "heroes."
To learn more, Somalia Report spoke to several children who had been indoctrinated into the al-Qaeda aligned organization.
"Our teacher was changed when al-Shabaab captured the town and a new teacher was brought to us. This teacher always told us about how al-Shabaab fought on the battlefields and defeated the TFG and AMISOM. He also used to urge us that we should join al-Shabaab and be willing to fight when the hour of need at last comes and we are needed to carry guns and fight the enemy," Abdisalam, a 16-year-old boy recuit, told Somalia Report.
Abdisalam also added that the al-Shabaab teachers normally held consecutive meetings every Thursday morning in the dugsi (Quran school) to influence young children, telling that children are the sole defender of the religion. Typically, schools in Muslim countries and in Somalia are on holiday on Thursdays and Fridays, but al-Shabaab takes advantage of this "free time" by telling students should come to madrasa to learn additional lessons about the teachings of the prophets.
Young women are not immune to the predations of al-Shabaab. Special cadre of female al-Shabaab teachers also indoctrinates those girls who are not kidnapped and who are left to live in their towns. The girls are invited to the dugsi and madrasas where they are then taught many of the same lessons as the young men.
Fatima, a young girl who experienced the takeover of her town by al-Shabaab, explained how the recruitment processed worked.
"Every Thursday there were two huge women whose faces were normally covered used to come to our madrasa. They used to preach and tell us how we are important in the religion and also in the communities. They told us we are needed to serve as young female al-Shabaab mujahedeen by joining the group and marrying al-Shabaab soldiers in order to give birth young boys who will fight for the religion in the future. They kept on urging us to spread the ideology of al-Shabaab to our mothers and our neighbors by speaking to them about the good things about al Shabaab. I always did not believe what they told us at the madrasa because after seeing all their brutality and how they blow up innocent people like students and women in the name of religion. I hated them," Fatima told Somalia Report.
Al-Shabaab also changes the imams (mosque leaders) of the mosques and replaces them with their own imams who then talk to the community about their joining of the militia. The new mosques leaders give lectures at Friday prayers and after every prayer in mosque about the good side of al-Shabaab group, which attracted children below the age of 18 whose minds were not yet fully developed.
"After al-Shabaab captured our town in 2009 they ordered all the mosques leaders to step down immediately in our town, and they introduced new imams (prayer leader) and muadins (a person who calls people to prayer) who were going to lead prayers claiming that old mosques leaders were Sufis who are not familiar with the religion. Then the al-Shabaab mosque leaders started to held simultaneous lectures and reading books continuously," Ali, a young recruit, told Somalia Report.
In addition to academic and religious changes, al-Shabaab-controlled towns were also required to make other changes. One such change was the banning of playing sports for all young men. Many young men enjoyed playing football and other sports, as did younger children who would often play football after arriving home from school and madrasa in the afternoon. Al-Shabaab also aggressively prohibited viewing movies in cinemas, DCTVs, and would threaten or kill anyone who attempted to open a cinema or watch a DSTV.
With the loss of these "free time" distractions, many children and young people were left without any healthy, normal things to do. As a result, an in an example of the cleverness of al-Shabaab's strategy targeting Somali youths, the young people would then be drawn to those places where the insurgents' senior officials were speaking. This led directly to the indoctrination of many youths, leading to their joining al-Shabaab.
One young man, who asked to remain anonymous, described these developments as follows:
"I was a member of the Bobo football club in Beledhawo town and I used to play midfielder but since al-Shabaab entered our town in December 2008, we no longer play football. Immediately, they announced no more football, cinemas and DSTVs where we used to watch Premier League football on Saturdays and Sundays. They also announced that young children, who were needed to serve the religion of Allah, were instead wasting their time instead they wasted their time playing, which Muslim religion prohibited. They said playing football and watching DSTV are Christian things to do and anybody who did what the Christian did was an infidel. They also told us to attend the mosque for every Maghreb prayer and the lectures that they normally used to hold Friday afternoon at the Beledhawo town center and anyone found loitering around (not attending the required prayer) that time would face heavy punishment. After every Maghreb prayer the imams used to have lectures which they encouraged children and adults to support the al- Shabaab group and asked who would volunteer to join the militia and fight against the TFG and its allied infidels. In this way many boys, who were mostly under eighteen, were recruited into the al-Shabaab militia."
Apart from training children in mosques, madrasas, and dugsi, al-Shabaab gives children physical training in their military camps. After the child is abducted from their town or village, they are taken to al-Shabaab military bases and given various training.
"I, together with 18 boys, was taken to the al-Shabaab base at Girileey on the outskirts of Bardhere town in the Gedo region in mid-2010. We were gathered in one place where there were almost 40 other boys that were collected from different learning institutions and from different towns in the Gedo region. We were given lectures on the topic of jihad before we started our training. During the training we were always made to remember our main objective which was to fight for al-Shabaab, even if it costs us our lives," explained one recruit.
"The training was tough and not all would finish it successfully. We used to wake up as early as 4:00 am and start our training sessions which entailed various activities like shootings, fighting with knives, and carrying out explosions by use of remote control systems. We were also taught how to make explosives from readily available materials like bullet gunpowder and the heads of matchsticks. We were also taught how to repair the guns and pistols," he added.
"At first I thought al-Shabaab's fight was a just one, but after seeing my friends taken to the battlefields and left behind after they were injured in combat with TFG and its allies, I felt that I was no different than those boys who died in the wars or lost important organs in the war. I decided to escape from the group, but due to the al-Shabaab policy to kill any soldier who betrayed them I decided I couldn't. After some time passed, though, I succeeded in escaping from them. I have since joined a school in Mandera and i am ready to lead a normal and peaceful life like any other boy of my age in the universe," the recruit explained to Somalia Report.
It is not surprising to see a young boy of around 14 years with a gun instructing elders to do something or to refrain from something else. The boys are also often used in the front lines of the heavy battles that occur in Somalia between al-Shabaab and the TFG army backed by AMISOM and Ethiopian forces. Many people might ask why al-Shabaab uses children like this in combat. "Al-Shabaab takes the children to the front lines of big wars because the children are not experienced and therefore they don't understand when the battle is being won or lost, so they just keep on attacking and defending while on the battlefield. They are also told that any battle can be won (even if it is being lost at the time), which is something the children, being children, readily believe," an elder in a village taken over by al-Shabaab told Somalia Report.
The young boys are also sometimes told to just go and sit in public places where the people meet and listen to their stories without letting the people sense that the boys are from the al-Shabaab. They then collect the information from the people and report them to the al-Shabaab which then takes punitive action against on the individuals who talk ill about the al-Shabaab or seem to support the TFG and its allies.
"These days everything has changed. One has to watch what he says if he wants to survive, because when in a cafeteria, for example, you don't know whether the person next to you is member of, or spying on behalf of, al-Shabaab. You might talk about al-Shabaab and condemn their operations or even criticize their operations and the next morning you ordered to report to the station for questioning about what you were talking about and if you are found to have said what was reported about you, then you are punished. It is even worse if you deny what has been reported about you," said Saalim Ali, a Somali teenager.
Young girls are often taken as wives for al-Shabaab militiamen without consulting or asking their parents' consent on the marriage of their daughters. Asha, a mother whose daughter was brainwashed by the al-Shabaab teachers in the madrasa and was married to an al-Shabaab fighter told Somalia Report how it happens.
"The girls who are still very young, like 15 years of age, are taken by the al-Shabaab fighters. Some of the girls agree to marry the militiamen and others are forced into these marriages. The girls who agree to marry the al-Shabaab militia men are the ones who were brainwashed in the madrasas and who are lured by the stories and the future promises made to them by the al-Shabaab militia. On the other hand, those who are married by force are told that an al-Shabaab fighter wants to marry you and he is good man who can take care of you. If the girl refuses, she is said to have betrayed a fellow brother who is fighting for the religion so the girl's father is talked to and threatened with death. Fearing for his life, he agrees to the marriage."
The al-Shabaab militia maintains a large number of young girls who are fighters and some who are well trained in administering first aid to the wounded soldiers in the wars against the TFG and its allied forces. A significant number of girls also accompany al-Shabaab and cook food for them during wars and even when they are in the towns or remote areas. The al Shabaab also uses the young girls for spying and sometimes transporting weapons and explosives. The girls also carry food and medicine for the al Shabaab fighters who live in remote areas.